Welcome!
You have reached the band's official website!!
Here you will find the band's latest news and show info and links to mp3s, videos, and our social network pages!!
To join our mailing list CLICK HERE!!
tour info
Next Show:
March 19th 2023
Kingsland,Brooklyn, NY

The band has been writing and recording new material over the past few months that will be featured on their next release slated for 2017. The new material will feature the exceptional vocals of our new singer Gabriel and some dazzling dual guitar harmony and back and forth shred that John and Dave bring to the table. We are also looking at some of the premier metal studios in Europe for a potential final mix. It's a very exciting time for the band, and the band looks forward to releasing it's next CD and chapter of it's own brand of heavy metal in the upcoming year!
Metal Forever!!
Gothic Knights
Greetings all, we want to start the new year on a screaming high note! Joining our ranks is vocalist Gabriel Colon. Originally hailing from Tampa, Florida, but now part of our NY heavy metal community, Gabriel blew the doors down during his audition a few months ago with his own unique and powerful voice! We just booked a show for Wednesday, January 27th at St. Vitus Bar in Williamsburg. Come check us out and witness the vocal prowess that Gabriel brings to the band!!
HAPPY AND HEALTHY METAL NEW YEAR TO ALL!!!
The band is pleased to announce that we will be performing two shows in NYC in April 2016 at Stage 48! The first one will take place on Sunday, April 3rd with Sonata Arctica and the second on Thursday, April 28th with Primal Fear and Luca Turilli's Rhapsody! Discounted tickets are available through the band's website's store (no ticket master fees). If you purchase tickets through store during the month of December, you will also get a copy of our latest CD Reflections from the Other Side for free!
After a bunch of successful shows in 2015, the band is currently working on a bunch of new songs, a couple which will be performed live for the first time in April. We are also gearing up to make a very special announcement in the coming weeks! Stay tuned!
Happy Holidays and Metal Forever!!!
GK
The band is looking forward to sharing the stage with Tierra Santa, a very well regarded and established power metal band from Spain!! SHOW INFO AND TICKETS!!
We just confirmed our first show for 2015! We will be performing at BB Kings on Wednesday, Sept 9th, 2015 and opening for melodic progressive/speed metal band Angra!! For discounted tickets @ $20 each, please contact us at metal@gothicknights.com or visit our store page GK STORE PAGE.
It is with great sadness that we announce the passing of our dear friend and former Gothic Knights drummer Brian Dispost. Brian was instrumental during the band's early development as his amazing and high energy chops brought an edge to our music that is still part of us today. His amazing and dynamic drum work is featured on our 1996 debut CD. He was a total team player, but most of all he was a great friend to all of us. He had the gift of sarcasm and made us laugh every time we hung out. We remember the days he used to come to the door with just a leather jacket in the freezing cold. He was the viking of the band!
Brian stopped playing with us back in the late 90s because he was diagnosed with multiple sclerosis, which eventually took away his ability to play drums and became a life long battle for him. We never "officially" parted ways with him as we always held hope that one day he would get better. Our great friendship continued with him as we kept in touch with him through the years. Although he passed away last night, in our hearts, he will always be part of our band.
Band is featured on page 29 of the Sept 9th, 2014 issue of the Good Times Mag! Check it out!!
GOOD TIMES ISSUE 1153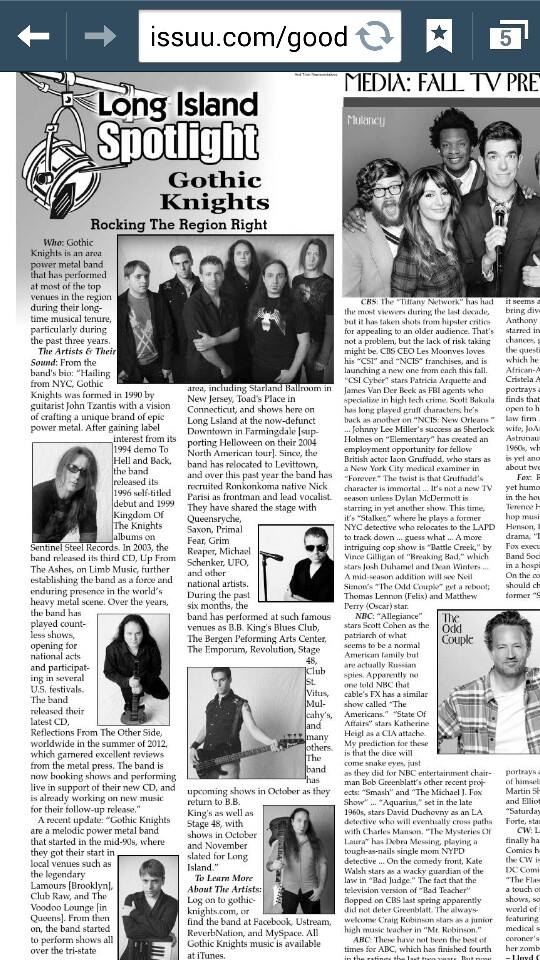 We have the honor and privilege of opening for the mighty Grim Reaper!! Grim Reaper's cult status as founder of "true heavy metal" goes without saying! And for those who don't remember Grim Reaper's videos on channel U68, those were the days right before metal became huge in the 80s. So come on down and bang your head and raise your horns high! And bust out your old demin jacket if you have it and if it still fits!
Come and join us on this special night as we open for the mighty Queensrÿche with Todd LaTorre singing!!
SHOW INFO AND TICKETS!!