Welcome!
You have reached the band's official website!!
Here you will find the band's latest news and show info and links to mp3s, videos, and our social network pages!!
To join our mailing list CLICK HERE!!
tour info
Next show: TBA!



Band is featured on page 29 of the Sept 9th, 2014 issue of the Good Times Mag! Check it out!!
GOOD TIMES ISSUE 1153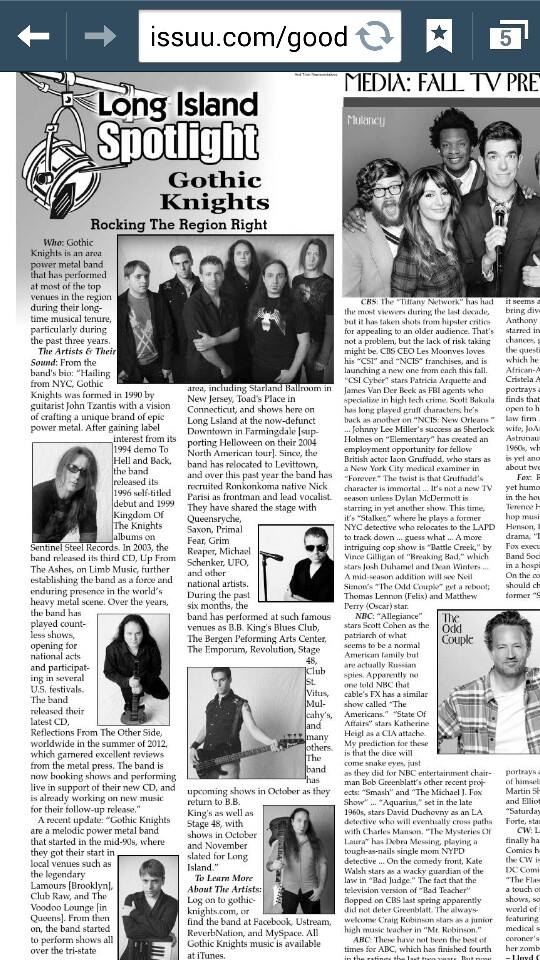 We have the honor and privilege of opening for the mighty Grim Reaper!! Grim Reaper's cult status as founder of "true heavy metal" goes without saying! And for those who don't remember Grim Reaper's videos on channel U68, those were the days right before metal became huge in the 80s. So come on down and bang your head and raise your horns high! And bust out your old demin jacket if you have it and if it still fits!
Come and join us on this special night as we open for the mighty Queensrÿche with Todd LaTorre singing!!
SHOW INFO AND TICKETS!!
Joining us on stage at BB Kings is vocalist Nick Parisi. Nick is a seasoned veteran from our local scene and currently the lead vocalist of the excellent Queensryche tribute band Rage For Order. Come witness his incredible range and soaring vocals as we play several tracks from our last few releases!
Opening for legendary act UFO at Revolution in Amityville, NY on Saturday, October 5th, 2013. Band will be performing a bunch of new songs as well as a couple of songs from earlier releases that it hasn't played out in years!!
Please also check out our Music page for other new songs we posted!!